On the 23rd of April 2016, our chief digital marketing strategist was invited to speak at the World Food Expo (WOFEX) University seminar. His topic was about using digital marketing, Google Adwords specifically. The topic was centered on how to use Adwords to generate leads for the real estate industry.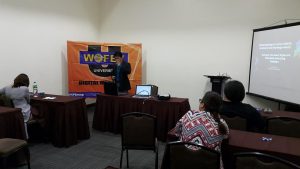 Digital Marketing for Real Estate Professionals
Highlighted in his presentation were the advantages that Google Adwords can offer to the real estate professionals. The targeting options, budget flexibility and easier campaign management just to name a few. Also discussed during the presentation were the best practices in running an Adwords campaign. Choosing the right keywords, location targeting and using of more effective landing pages. Another important aspect discussed during his presentation was the important of measuring campaign performance. Tracking conversions with an anlytics software like Google Analytics is a must for businesses who have websites.
Please see his presentation deck below: